Turquoise bay resort Is located in a protected cove, sheltered by a natural mangrove peninsula and the offshore coral reef, near the village of Milton Bight on the north-eastern side of the island about 15 minutes east past the town of French Harbour.
Turquoise Bay Resort Roatan Videos
"this is the only dive resort which gives you the opportunity to dive on an uncrowded dive site"
This resort is situated on a hillside with marvellous ocean views, moreover, the bay is protected by a mangrove island and the off-shore reef is quite safe and perfect for swimming and rowing boats.
Let's learn a little more with a video..
RESORT AMENITIES
Enjoy the tropical pool, sunrise, and the sparkling water of the Caribbean Sea from the longest beach in Roatan. The white sand beach has a beach bar, lounge chairs, and a volleyball court.
Here is a list of amenities that you can enjoy during your visit and stay in Turquoise Bay Resort.
Free Wi-Fi
Spa facility
Regular maid service
Laundry
Airport shuttle
Concierge service
Gift shops
Beach hammocks
Free parking
Free stand up paddle boat
Beach lounge chairs
Operational Hours of Restaurants and Bars
RESTAURANTS:
Breakfast 7:00 a.m -9:30 a.m
Lunch 12:00p.m – 2:00 p.m
Dinner 6:30 p.m – 9:00 p.m
BAR: 10:00AM – 10:00 p.m
DINING AT TURQUOISE BAY
You can place your order for breakfast, lunch, and dinner in the air-conditioned dining rooms of the resort. The morning menu includes a typcal Honduran breakfast of eggs, rice, dried beans, fried plantains and a grilled pork or steak. A cup (or more) of full-bodied Honduran-grown coffee and fresh fruit juices are also included in your breakfast meal.
The lunchtime meal is ideal by the poolside, from where you can enjoy the spectacular views of the barrier reef and the Caribbean Sea. You can start your lunch with some fresh fish, pork or steak tacos with some handmade tortillas. Grilled chicken and rice along with some steamed enchiladas are also included on the lunch menu. Your lunch would be incomplete without a local frosty bear, or the special recipe rum punch now is the time to unwind - UNLESS YOU PLAN ON DIVING! Then of course no alcohol should be in your system..
At dinners, you would often be served with fish like tuna, wahoo, dorado, jack, mahi-mahi, and king mackerel pulled right from the local waters in a sustainable way.
ACCOMMODATION
OCEAN VIEW KING ROOM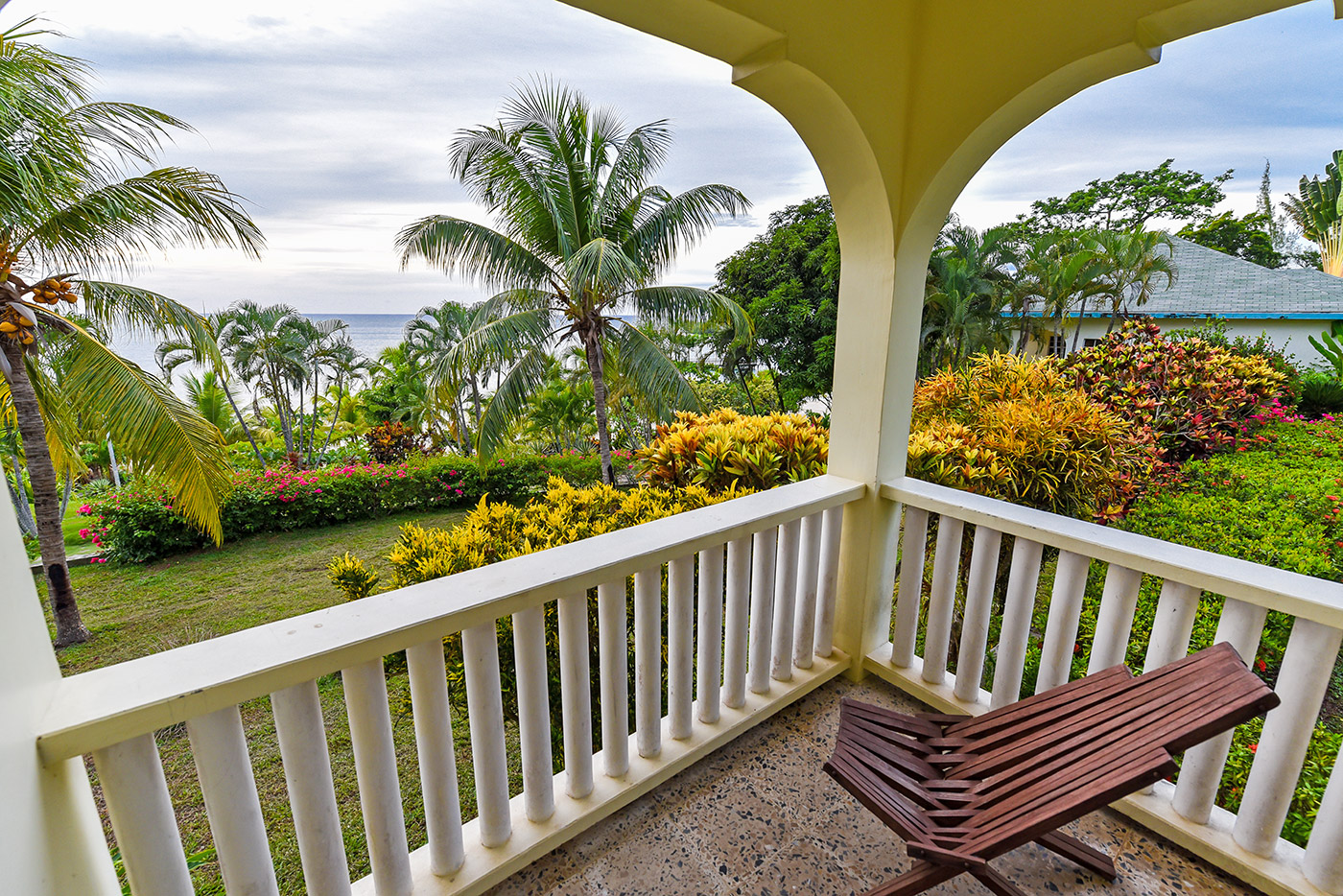 These 250 square foot units are well-furnished, spacious, and comfortable and have a private balcony from where you can enjoy the natural beauty around you. This unit has one king bed just perfect for two guests.
OCEAN VIEW DOUBLE BEDROOM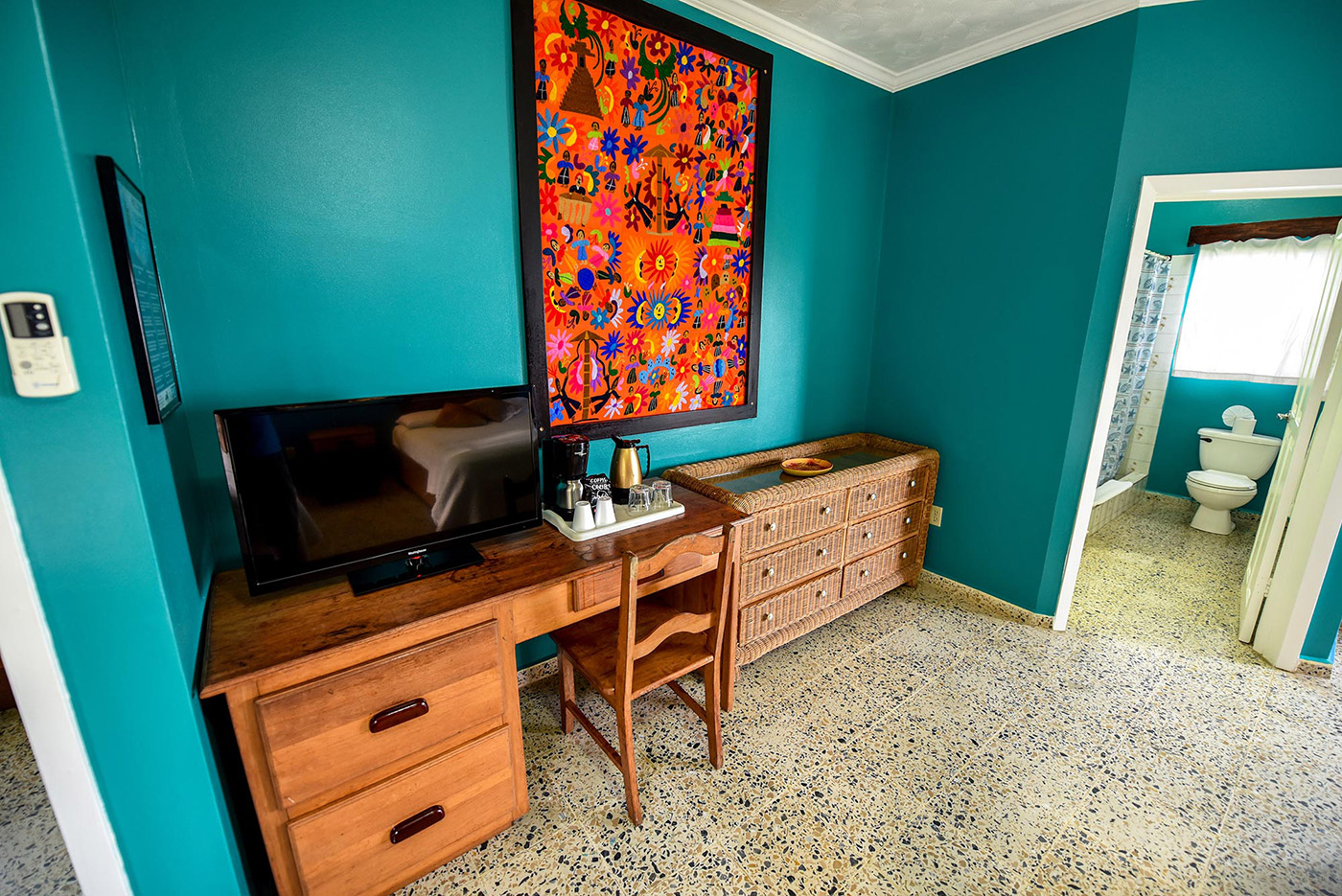 These units offer an option of two double beds where four guests can easily accommodate themselves.
HILLSIDE ROOMS
Turquoise Bay Resort's 250 square foot Hillside Rooms offer you, two double beds ideal for four guests.
GARDEN VIEW ROOMS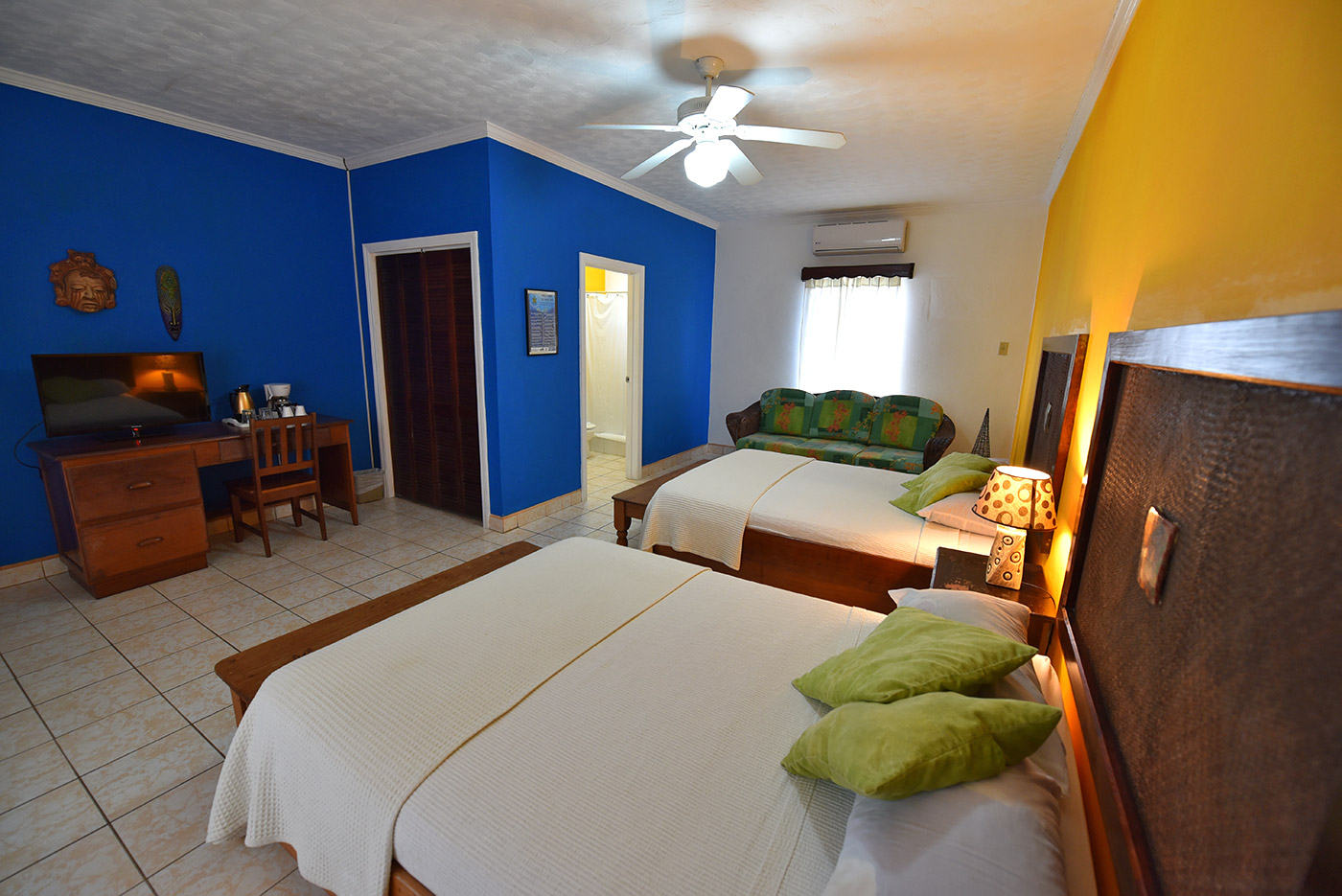 This unit is ideal for those who are passionate about diving and swimming. It covers an area of 250 square foot comfortable for four people. All these rooms are fully loaded with the following features.
Private balcony
Private bathroom with shower
Hair drier
Plasma TV with US channels
Coffee machine
Toiletries
Air conditioning
In-room telephone
Linen and towels
RATES DETAILS
Rates are calculated here per person, per night. All the rates are accepted in US Dollars where 19% tax is excluded.
$100 is added per night for every third guest in a room.
$50 is added per night for children above 4 years to 10 years old.
Infants ( 4 years or less) get free accommodation.
CONTACTS
For reservations and any other questions please feel free to contact by telephone and email
Telephone numbers-
+(504) 9885-0840 (International)
(617) 391-8338 (USA)
Email- This email address is being protected from spambots. You need JavaScript enabled to view it.
Location
You reach the resort leaving the main road and driving down the hill from where you get a spectacular view over the resort and the lagoon.
Activities
Activities include scuba diving, snorkelling, water skiing, kayaking, beach volleyball and horseback riding. The rooms are bungalows 26 of them the better rooms have an ocean view.