Some of the towns and regions of Roatan that you might like to know about before visiting Roatan.
Scroll down for an overview video containing some of these attractions in Roatan and more
West Bay
West Bay Beach has seen a lot of development lately and is kind of full now. It is not at all hideous far from it, just that the editor remembers a time when it was a real paradise. Don't miss this if you like your beaches with medium/fine sand and the most beautiful water. As always around Roatan the snorkeling is excellent. There are many more places to stay now such as the Grand Roatan. Corbin does an excellent intro video on west bay.
Flowers Bay [map]
A local village that is attracting some foreign property interest. When the weather is bad you can do one of Roatan's few shore dives here called Flowers Bay Wall. It sits on the east side but is in the west end side and about 12 minutes by car from west end.
Coxen Hole [map]
Coxen Hole is the main capital of Roatan. You will find it quite smelly grity and dirty in places and in others an intoxicating breath of 'fresh air' ? contrasted with the luxury of the resorts. You shouldn't parade around here at night though most people don't get trouble it might not be far away here. There are good places to eat and find groceries that are better value than in the more touristic centres. It has some great opportunities for photographs. There is the local hospital here and schools and most other things you get in any town. It ends up being around 40 minutes by car taxi from West End.
Mahogany Bay [map]
Carnival Cruise lines built this purpose dock for their own company only, however on bad weather days they have to dock into Coxen Hole. Mahogany Bay has a skilift you can take to the custom made Mahogany Beach. There is world class shopping as you would expect and a high standard of cleanliness you might expect. Here is an article you might like to read for more detail. You can see the whole area with this 4k video.
Brick Bay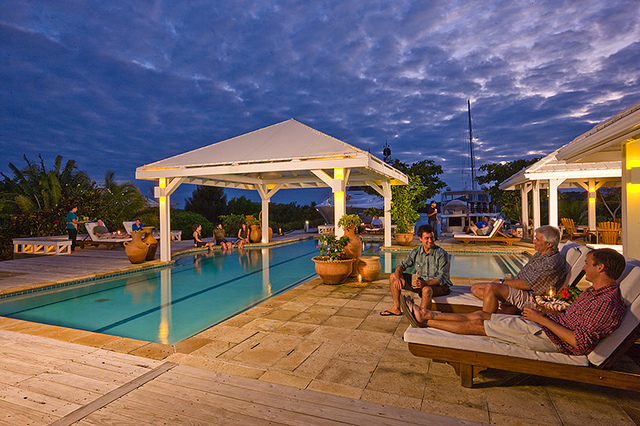 Just further along 'Carretera Principal' you arrive at the community called Brick Bay most notable for the Barefoot Cay Resort.
French Harbour [map]
One of the main communities on the island and in some respects feels like the capital with a healthy activity and located in the middle of the island on the south side. There are banks and atm's (cash points), a mall with the likes of Wendy's and Apple Bees in. Has some serious marine repair opportunities like dry docks and a mini mall. It sits at mid way along the long shaped thin crocodile form that is Roatan. Points of interest close by are the iguana farm and marine park.
Little French Key
A small idylic paradise with a plethora of water sports and activities to try in the immediate area. It's really hard to describe the place and it comes from a vision of its founders. Really you don't find this kind of place anywhere easily. Check out what trip advisor says
Check their website for details on how you can visit. Closed on a monday unless a cruise ship is in that monday.
Iguana farm
Tel :(504) 2445-7743
All the native species are here from the bay islands versions of Iguana. Just past French Harbour.
An incredible estimate of 4,000 odd iguanas exist freely and they grow to around 3-4 ft long. You can pet some of the more friendly brave ones in the early afternoon. Iguanas are not the only amazing creatures here the Tarpon I found amazing and monkeys and turtles too.
On Camp Bay 'you would never get bored listening to the waves on the beach, which is key when you are a long time dead..'
Jonesville and Oak Ridge [map]
Jonesville and Oakridge seem like quite a distance from the west end indeed you are into the eastend of Roatan. Tourism is developing here and the diving is now all around the island. For example a little way further past the turn off for Oak Ridge follow the fork right pass the gas station a half mile further and you will find Marble Hill Farms a place where you can dive the east end of Roatan or also try your hand at Kitesurfing. Jonesville is a small town and everyone here are mostly locals who are involved in boatbuilding and fishing. There is the Hole in the Wall restaurant and bar that makes for an interesting tour as it is located away from most all and you take Clyde's boat through the mangroves to get there. Oakridge is similarly boat building and fishing and Municipality of Santos Gaurdiola is administrated from here, again touring the mangroves is a great thing to do. Past these town communities you will find Calabash Bight Resort in you guessed it Calabash Bight !
Camp Bay
Notably a very Roatan local un spoilt place with a place I might one day like to be buried in the cemetery overlooking the ocean its poetic - you would never get bored listening to the waves on the beach, which is key when you are a long time dead.
Sandy Bay
A very popular community of locals and expats live harmoniously together. Of recent history a couple of resorts have sprung up. Sandy Bay is along the road towards Coxen Hole from west end, and you might miss it unless you take note of the thickeing density of signs. Anthony's key resort is the main diving centre here and they have a marine conservation museum and Roatan museum that are well worth a look. In fact the swimming with dolphins takes place here and its much more than a dip and a photo an experience not to be missed.
Shark Dive
Sharks are fickle creatures and the Italians who created the shark dive got lucky once spotting a place where they naturally hung out. They nurtured the dive spot and now they consider the sharks as pets. You can't book the shark dive online and you must have dived with a shop and be recommended to do the dive at all. You can find some really good you tube videos on the roatan shark dive like this one.