There are 5 wrecks available to dive in Roatan 4 of which you can dive on air no problem. One of the easiest is el aguila dived from the west end usually or mid island on the northern shore. Hurricane Mitch took its toll on this site ripping it into 3 parts but they are still good parts and you will appreciate that this is a sunken ship for sure. So not one of the wrecks where its a little hard to imagine.
The Eagle wreck or El Aguila in spanish is a popular dive site on the north coast of Roatan not far from Sandy Bay. It is a dive for many abilities and has a healthy reef to finish your dive on. The wreck has been split into 3 sections in 1998 as Hurricane Mitch hit Roatan.
Its not for the absolute beginner but you could enjoy this wreck with less than 20 dives but not penetrating it nor getting to the 112 ft of water it is in. Also not usually problematic with strong currents.
Try to spot: Morey Eel and large Groupers
A group of divers circling the bow usually towards the end of the dive just before hitting the shallower reef..[rons photos]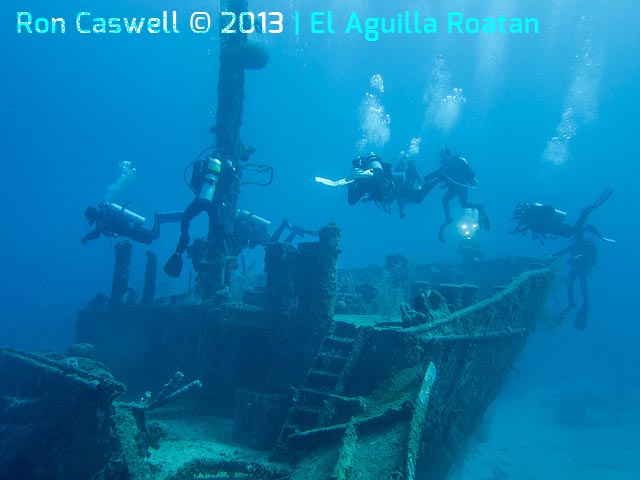 In the video below you will see garden eels, blue tang and a nice sized black grouper. Thanks to the work of the Roatan Marine Park fish like this have some safety from fishing. Also there are nice Angel Fish and the scene in the video shows a green morey in shot with the grouper who appears to have joined the dive group.
Read more about the history from Subway Watersports here we couldnt say it better here.