There are a few gateway cities serving Roatan but the competition overall remains low and so prices to fly to Roatan can fluctuate. It's particularly expensive to get to from Europe unless you come on a package deal from Italy. It is popular with italian couples and families. Sunwing is now offering flights and vacations to more destinations and remains an option. If you are coming from the USA then the best cities to fly from are Miami, Houston, Atlanta and New York.
How to get cheap flights to Roatan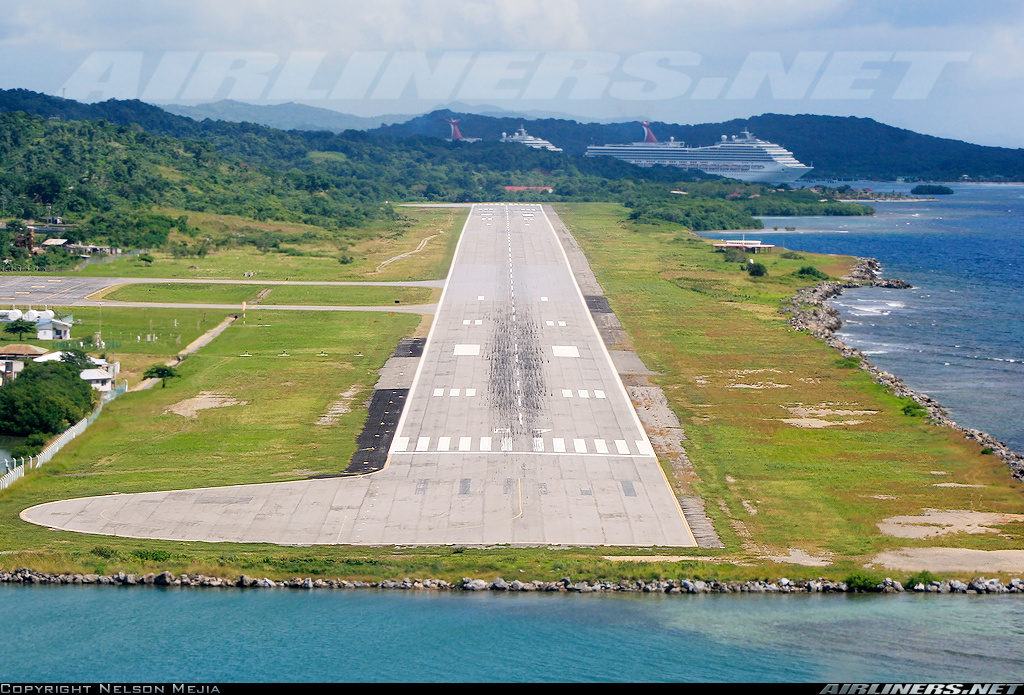 Image courtesy of Airliners.net
You probably can't get super cheap unless you live in a gateway city not requiring a connecting flight but you might get some value deals I love sky scanner to find your flight easily checking many airlines websites at once - a great time saver. Please help us maintain this website page for accuracy by sending us your findings on flights.
Italy has some cheap flights to Roatan that change yearly and are due to package deals - but as a european you CAN snag a great deal but plan that you might need a night layover in Milan for example. Getting to Roatan from the US and Canada is MUCH easier. For the Italy flights you need some good contacts or good luck and searching the internet in italian can help!
Fly with continental (now United) via Houston you may have to overnight.
I am not sure if the following info is still true it was and I need time to check it further - it still looks official but as you get further in ?? pls check with care..***Do NOT USE the following website !!! http://www.tacaairlines.co.uk/ It is not official TACA site and worst of all they change the original quoted price and send your credit card details without https (no encryption)***
In general it makes sense to fly through a North American Gateway city. These you will find about by doing a general search for flights in the sites below. For example flying from Miami gives you the opportunity to change carrier to Taca Airlines. However it may be cheaper using Continental via Houston as then you don't need to change carrier and Continental though they are fighting hard Taca for bottom spot in terms of quality just loose out as they are slightly better and less likely to loose your luggage. But in most cases unless you live in North America then you will probably have to stop overnight on at least one leg probably getting there.
From the USA or From Canada
United Airlines formerly Continental Airlines has direct flights from Houston and New York to Roatan on Saturdays. They have daily flights to San Pedro Sula (on the mainland) where Roatan connections can be made. Continental has added a once-a-week direct Roatan flight to Roatan from New York.
Delta Airlines has direct flights from Atlanta on Saturdays.
United Airlines has merged with Continental click here for more >>
Spirit Air Flies to San Pedro Sula, then you need to get to Roatan which can be a couple of days travel unless you land early enough to make last ferry from La Ceiba at 4:30pm.
Sunwing Airlines Canadian Tourists Connection
Sunwing flies charters from Toronto to Roatan on Mondays leaving Toronto at 6:20 AM and arrives at 9:05 AM. Departs Roatan to Tornonto at 11:10 AM arriving Toronto at 4:15 PM. Be sure to call them for short notice rates at 800 761-1711 Mon-Fri 9am to 5pm in Toronto.
From Europe to Roatan
To get into Roatan from Europe direct is almost impossible unless you can get on the charter but it usually requires a stop over in Milan or Rome. You can fly into Tegucigalpa or San Pedro Sula from most international carriers.
Another popular method that is enjoyable is overnight in Houston or Miami.
For the direct from Italy charter check google for 'Blue Panorama' and 'Neos Air'
There are some charter flights that leave Italy but the websites seem to come and go Neos air, blue panorama have been in the past. Obviously these flights are not meant to be booked by anyone other than Italian holidaymakers however I myself have cheap flight into Milan then overnight and resumed in the morning direct to Roatan. This was working out around the same price as going via the USA.
So flying via Miami or Houston may be the best option for you bear in mind that a transfer even if you don't leave the airport in Houston will require you to clear immigration and do the ESTA visa waiver online.
From within Central America.
Taca offers the better options as they fly into Roatan directly. You can travel by bus to La Ceiba the ferry. To note that there are around 3 flights daily from within Honduras to Roatan from San Pedro Sula or La Ceiba or Tegucigalpa.

Contact Numbers for Airline Companies Related to Roatan
TACA: 504 445-1918

DELTA: 800-221 1212 / 404 765-5000

CONTINENTAL: (504 445-0224)

ISLENA: 504 445-1559

RTB AIRPORT: (504 445-1880)
Departures by plane
Roatan Airport code is RTB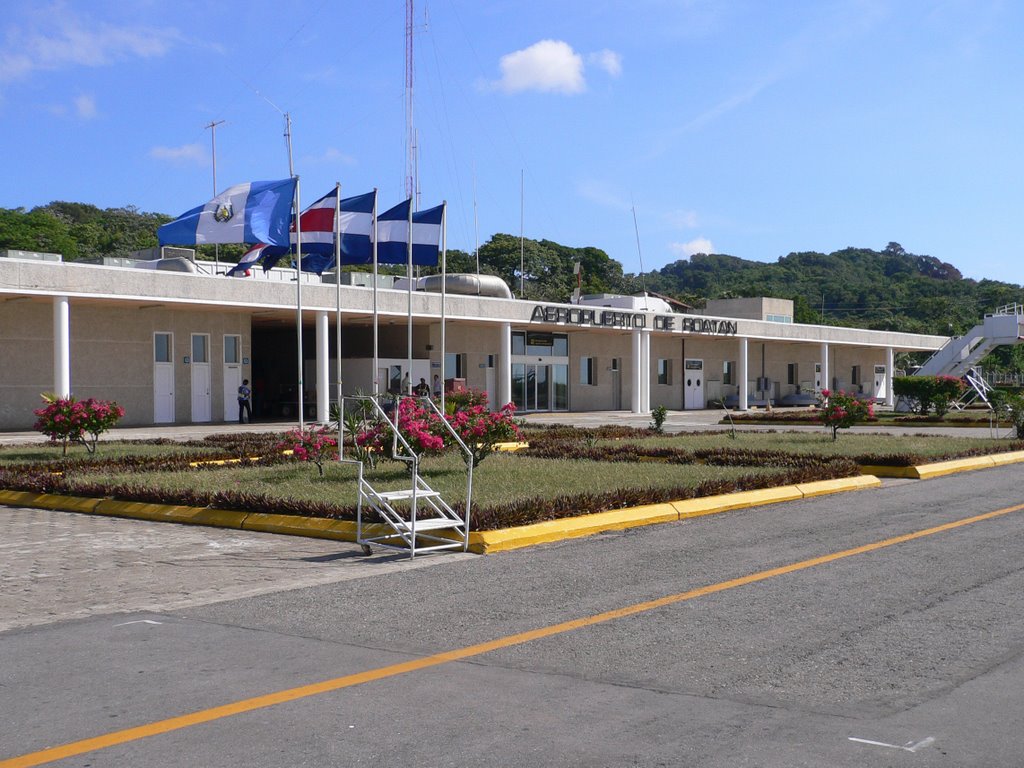 Image courtesy of http://www.panoramio.com/photo/12083817


There is a departure tax of U.S. $38.00 per person, payable in cash.
Getting to West End or West Bay from the airport.
It takes approximately 40 minutes from / to the airport, so allow yourself plenty of time. You can walk out and up to the main road (with the airport at your back traffic heading left goes to the west and via coxen hole and if you want to get to west end for example just head in that direction) which is close by and get onto a local bus - IF you have a lot of luggage then a cab hailed from the road will be cheaper than one hired from the airport but its all about negotiating and if you share the cab depending on the space left after you and your luggage get it. Even from the airport it isnt too expensive but backpackers should go for a better deal from the road or just find others at the airport and share the cab.