Types of Roatan Vacations
Roatan visitors fit the following group types - generally. Let us know if you dont fit this list.
Cruise Shipers
- cruise ship companies that visit Roatan include Royal Caribbean, MSC, Carnival and others. Some dock in Coxen hole and others the newly developed Mahogany Bay.
Backpackers
- currently the only only hostel is in Sandy Bay - a great location to base yourself or there are some cheapish alternatives in west end village. Still backpackers come here after perhaps making a longer stop in Utila or instead of. I came to Roatan first. After traveling through central america its one of the best beach destinations you will find and a bit of a break from the 'hardships' of travel in CA and mainland Honduras. You might find them arriving by ferry from La Ceiba or there is an option of a charter catermaran from Utila directly.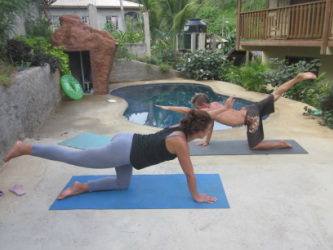 Vacation rental vacationers
Not everyone is a diver (though divers love this way to DO Roatan) its a great way to feel at home and get some privacy and tranquility. Also there are some vacation rentals right on the beach - so you rent your own idylic beach house. You should really do this if you are a group as you will really save some money if you look around of course you can always spend more for luxury vacation rentals.
Scuba Diving Packages
Divers flock to Roatan - why ? If you read the diving magazines you won't get Roatan being listed as the best diving in the Caribbean and yet it features so much. The marine park is doing wonders and fish life is getting Roatan back up in bigger leagues and the shark dive is also gaining notariety. 2 italians found this spot a kind of corner that 'held' a bunch of sharks regularly (other locations since dont work) this location if you ask me has other shark magnetism other than the handy topography..anyway they built a shark dive and you can only book it locally. You would need to have dived a few times and the dive shop would need to ok you. Then you can be lucky. So back to the why dive in Roatan if it isnt the best the Caribbean has to offer ?
5 reasons to go diving in Roatan
- its easy to learn to dive in Rotan
- there are tons of cool things to do when you arent diving
- it has a unique blend of cultures that make it nicer than the usual Caribbean typical island
(ok some diving reasons)
The water is beautiful wam clear and the currents help diving, the boat rides are short and relatively calm. The walls and caves and topography are amazing before we get to the fish life. Its very good pelagics such as jacks and barracudsas down to the micro shrimps blennies and slugs and snails that are so diverse you will start to get interested trust me.
It can be cheaper to vacation here than on other islands. The diving and learning to dive is cheaper on Utila the cheapest place on earth but on Roatan its pretty darn good value. Where you might spend 45 USD on a tank in St Lucia plus here on Roatan you can get a tak from 30 by buying into a package.
Roataners
I now used to fit into this category, I get there as fast as I can and stay a while with friends and knowing the locale the roataner will return over and over to the isle.
They know what they like and don't want to waste time. Often Roataners end up becoming permanent residents. They often try and start businesses to finance this new life and in a way this is how the west end was born. Maybe you might end up in this category
- be careful what you wish for.
Images courtesy of http://eileenseitz.com/ and http://www.roatanbackpackers.com/