[Editors note this is a very old article and things will have changed a bit even though in Roatan they do so very slowly.]
I managed to get my taxi come collectivo for 11 Lempiras from west end with. The destination was a botanical gardens situated opposite Anthoney's Key Resort, in fact you wont miss the stop unless you're asleep. There's a big sign (of course green) for the gardens labeled Carambola Gardens And Nature Trails. So I paid my driver and walked into the entrance which is a shop with all the usual gifts but nothing which really stood out. I was greeted by mina who worked there and spoke good English. I paid my entrance fee of 85 lempiras mina gave me a map and told me of a logical route to take.
The map was laminated highlighting the various trees and plants. The gardens have pathways and a good deal could be seen by wheelchair but not the trail up the "mountain" side. One could just go randomly around and I found myself doing this after I had made the walk to the top and back into the gardens, because a more systematic approach would have been difficult owing to the many paths crossing everywhere. One would not get lost because of the size and it is easy to keep in mind the entrance direction.
The view to Antoneys Key Resort Roatan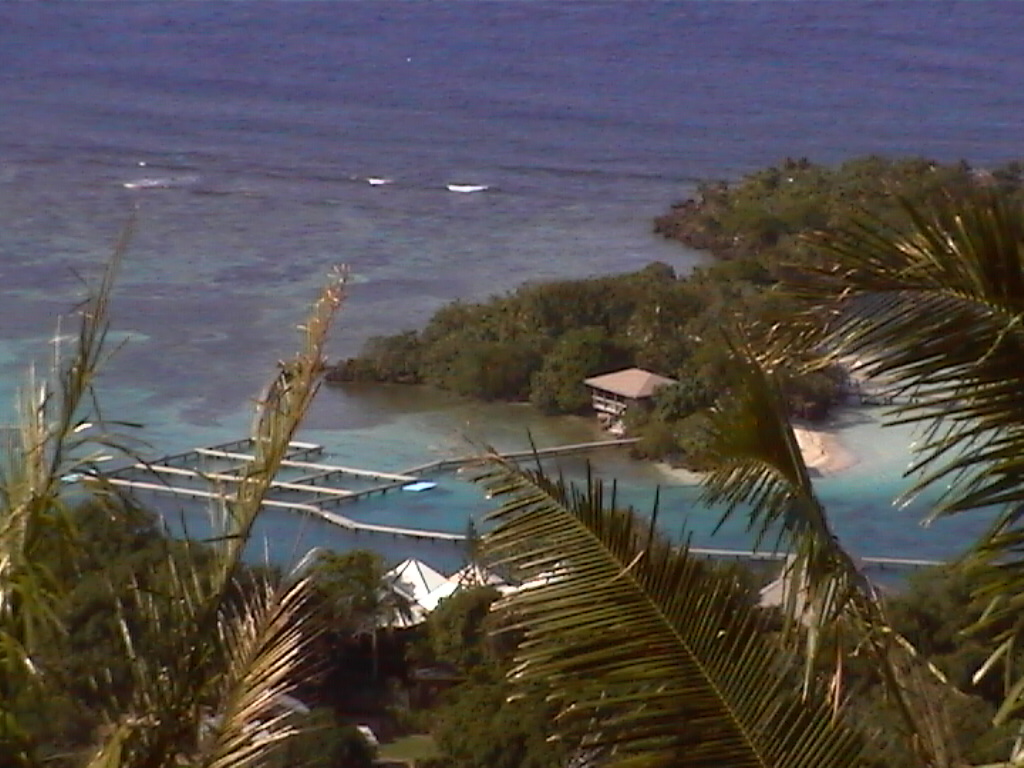 I had been advised to take the "mountain trail" first which I decided would be fine. This bared to the right after entering the gardens and started off a gradual slope up the side of the hill. I feel the need to draw a distinction between a mountain and a hill because I have seen it referred to as a mountain trail. It is a hill, a medium sized hill, and the trail winds up the side of it. This is the nature walk, but 20 minutes is what it took me to get to the top and I am of average fitness. At times it is a reasonable challenge for footwear and flip flops and high heels need not apply.
To get to the start I found myself doing a part of the gardens on the right hand edge of the map. I am one of those people who hates to think I missed something and these gardens would later have me criss crossing all over. And so it was I started my botanical gardens experience to the sound of various birds and a mass of organized greenery and plants, there were immediately several paths available to me and I could see a small gazebo type area where one could sit and eat. It was all very relaxing all of a sudden.
But I was on a mission, I was excited by the hill walk and wondering how it would be, so I continued past a few plants and trees, coffee being one of them, it was listed on my map but there was just a sign saying "coffee" no descriptive like giving more information for example what soil and sun make for a good coffee plant. This turned out to be consistent throughout a lack of information, just the name of the plant and sometimes it wasn't clear which plant the sign was labeling.
I arrived at the hill side trail as indicated on the map and started my walk. A gradual slope of about 15 degrees on a surface made of earth and root systems which was well worn and is easily manageable for most people. The first impressive thing for me and indeed the most impressive thing was some giant palms, the leaves must have been 4ft across and 8ft long. They would have been too big for the regular gardens and were on the early part of the hill. The path turned 180 degrees but continued upwards at a similar angle, I felt like quite an adventurer. After a short time I had risen above the lower canopy and could see the gardens below. It took me about a quarter of an hour to reach the top which to my surprise was a very nice spot for a picnic A clearing in the surrounding bush was mown grass and there was a seating area and the view was really beautiful overlooking anthoney's key bay and the gorgeous turquoise waters. Roatan does lack from having really nice vantage points due to its lack of really high places. It was at this moment that the real point to the gardens came to me, and the reason I was there. It was a pure escape from everything else on roatan and was something really different. I would have liked to have spent longer there however I hadn't really seen most of the plants still and I took a different path down.
Getting darker as the canopy began to cloak me again I ran into what was termed a jungle trail, however I didn't need to machete my way through, my imagination was fuelled by running water in the background and as always the welcome chirrups of the birds. I came back down at the top right hand edge of the map and of the gardens wondering just what the jungle trail was. The running water was that of a stream and seemed very fitting. A small bridge crossed over it into the top of the gardens proper. I was back onto the regular maze of concrete path. I elected to randomly strole through the rest, making sure that I saw the plants that particularly interested me such as the plantain plant, I have mistakenly taken as bananas in the past. I did like their spices and if a plant is used in producing something they had that product next to it for example a pot of vanilla next to the vanilla plant, but I generally thought there needed to be more information on the types of plants and how the plant functions, which I find fascinating.
Outside of the main gardens there is a plant shop, whereby one can buy all sorts of plants and plant pots and turn your very own garden into a jungle.
The deal with the Carambola botanical gardens is I think to just let it relax you. It does have a massive amount of different plants some very impressive that make you want to know more. After a hard days diving it can be a nice hour away from it all. For repeat visitors the 85 limp ticket would be prohibitive, but for new visitors I think it represents good value-just remember to take a picnic for the hill top.
Official Website for Carambola Gardens | https://carambolagardens.com/