Here we show you what you can do in Roatan whether it be rent a paddle board or go on a tour of Roatan after docking from your cruise ship.
Van Tours and more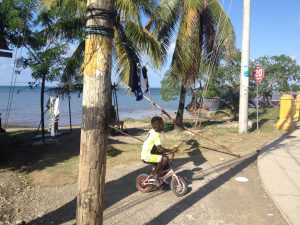 Check out Blue Cool Running Tours for van tours in Roatan around the island. They do cover tours tailored for cruise ship guests as well.
Roatan Watersports
The entire coastline of Roatan is surrounded by healthy, vibrant coral reefs; actually the southern tip of the world's second largest Barrier Reef, Mesoamerican Barrier Reef. Roatan also lies alongside the deep southern edge of the Cayman Trench. The result: great visibility year-round, and nutrient-rich waters bringing in a host of animals. It is said that 90% of all Caribbean reef species can be found off Roatan's shores. Take the 2 minute swim out from most anywhere to have all of this at your finger tips. One of our visitors wrote back: "My kids were in heaven, it was like having the Discovery Channel right in front of them."
Snorkelling
Just off the beach in front of West Bay Village we have a marked snorkeling channel so you can get out to the reef safely and easily. This end of the beach is where the reef comes closest to the shore. You can find snorkel gear for hire all along the beach, but it's best to bring your own, for comfort and fit. Our guests regularly see rays, sea-turtles, eels, lobster, crab, barracuda and more. Some have even been lucky enough to swim out to see pods of dolphin swimming by.
Scuba Diving
Obviously most of you are here on this site for that. But anyway underwater is where Roatan really comes alive and what got it noticed in the first place. There is every kind of diving you could ask for (except drysuit !). Explore the wrecks, deep walls, caves, canyons, night dives and vibrant shallow coral gardens. Now surrounding the whole of Roatan there are a number of well-established dive operators where you can get certified (that phrase always makes me smile !), advanced training, or be taken out for fun to any number of world class dive sites. With water temperatures kept mild year-round, we dive every day here.
Submarine Ride
Roatan is home to the world's deepest tourist submarine. Built and piloted by Karl Stanley, "Idabel" takes up to two passengers to over 2000ft below the waves. In this cold, pitch-dark inner space you'll meet some of the strangest creatures ever seen by the human eye. Maybe your eye is the first! Visit Stanley Submersibles web site for more info.
Dolphin Encounters
For many, swimming with dolphins has been a childhood dream. Now you can live that dream here on Roatan. Anthony's Key Resort (call: 504 445-3003) in Sandy Bay offers encounters snorkels, swims and dives. Kids of all ages can get up-close and personal with these playful mammals. Experienced trainers will take you into the lagoon and introduce you to the dolphins. Once you get to know them for while, feed them and play with them, you'll go out for a swim! Drop by our office for help with reservations.
Sailing
There are a number of yachts and catamarans you can charter for the afternoon, for a day, or for a longer cruise to the neighbouring islands. Even Belize is only a day's sail away. Stock up the coolers, get the rods out, lay back and let the wind take you. Chartered sunset cruises or dive trips are also possible.
Fishing Charters
Roatan is also famous for fishing opportunities, with annual marlin competitions. We recommended Eddie Miller, who has generations of experience. Flats fishing in the lagoons or deep-water fishing off the point; Eddie knows every spot, whatever the conditions. A choice of rates, boats and locations. His lovely wife Gina will cook up your catch to perfection for you.